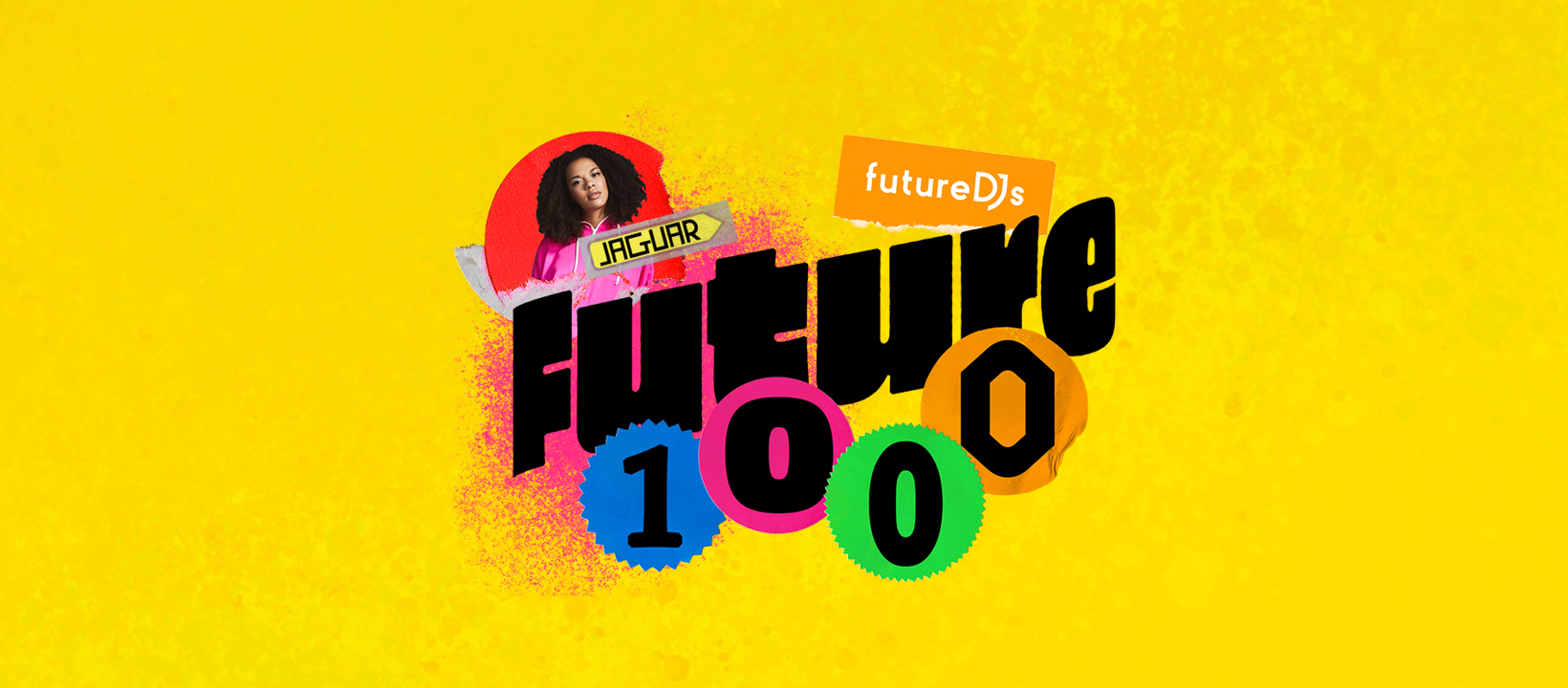 Soundtrap Partners with FutureDJs for Future1000
May 12, 2021
Soundtrap Partners: DJ JAGUAR SPEARHEADS NEW INITIATIVE FUTURE1000 OFFERING OPPORTUNITIES FOR 1000 YOUNG WOMEN TO GET AHEAD IN THE MUSIC BIZ 
Free platform presented by in-school music education scheme FutureDJs will be open to under 18s across the UK
Future1000, a new national training programme to get more young women into the music industry by equipping under-18s with the skills they need to kick start their careers, launches this week. Led by BBC Radio 1 DJ Jaguar and in-school music education platform FutureDJs, the free initiative aims to redress the persistent gender imbalance in professional music – highlighted recently by the latest UK Music Diversity Survey which noted women make up only 16% of all artists in the industry. Launching at a time when the impact of the pandemic on culture has further restricted opportunities in an already difficult-to-access industry, Future1000 will focus on levelling the musical playing field at a grassroots level by providing 1,000 girls and gender minorities with the access to the training, tools and industry mentorship that can be critical for early success.
United on a mission to increase opportunities for young artists and make music education more accessible for all, Future1000 sees Jaguar team up with FutureDJs to offer young women and gender minority students across the UK a summer-long course that will cover a range of industry career paths, including radio presenting, DJing, music production and management. Inspired by Jaguar's own
experiences as an emerging female POC DJ, and brought to life via FutureDJs' educational expertise and network, Future1000 will focus its support on young girls, trans and non-binary people from underrepresented backgrounds, groups that typically face the most barriers in entering the industry.
Soundtrap Partners Continue to Grow
The 12-part online course, which doesn't require any equipment or previous knowledge, offers participants the opportunity to learn from some of the best in the business via a mixture of interactive artist-led sessions with established talent and leaders, alongside a series of online modules developed in line with London College of Music Education [LMCE] accredited course tutors. The scheme will also offer schools, who struggle to equip their classrooms with modern music technology, the opportunity to apply for free practice equipment for students taking part.
Powered by FutureDJs', the initiative continues the music education platform's longstanding commitment to ignite more young people to enter the industry by inspiring them through the music genres and artists they love. Instrumental in securing DJing as part of the GCSE syllabus, the organisation have been working closely with schools since their inception in 2015, and have been providing opportunities for British students to learn from industry greats such a Fatboy Slim, Carl Cox, Goldie, Tiffany Calver and Yasmin Evans.
Jaguar, co-founder of the Future1000, commented; "Our hope for equality lies in the next generation and that's why Future1000 will help improve gender diversity and representation at the very start of young people's journeys into music, at a time when access to opportunities and inclusivity is most critical. My own experience of coming up in the industry, and often being the only girl in the room, has motivated me to make a change for others from similar backgrounds, and I hope that Future1000 helps to show young girls, trans and non-binary people what they're capable of." 
Austen Smart, co-founder of FutureDJs & Future1000, commented; "FutureDJs is on a mission to remix music education and make learning accessible and inspiring for all young musicians. By helping more young women, trans and non-binary students take their first steps into the music industry through the empowerment of 1000 young music makers, we want to challenge outdated structures, and create real opportunities for the next generation of talent." 
Future1000 is currently recruiting 1000 young girls to take part in the programme, which runs from May to December. To apply, schools and students should visit future1000.org to register their interest. Those who are invited to take part will be enrolled in the course, which will run across the summer holidays and until the end of 2021, and will also receive free access to the educational tools they need to participate, including a license for online music production software, Soundtrap (worth £125).
For more information, or to apply visit: future1000.org
About Soundtrap:
Soundtrap, a part of Spotify, is on a mission to make music creation and storytelling simple and collaborative for everyone. Soundtrap for Education is an online audio recording studio that enables students and teachers to collaborate in a safe learning environment, using any device, at any time, from any location. Soundtrap is headquartered in Stockholm, Sweden with offices in New York and Los Angeles. For more information, visit www.soundtrap.com/edu
About FutureDJs: 
FutureDJs was founded by brothers Austen and Scott Smart in 2015 with a mission to reimagine the music classroom of the future and provide best quality, affordable music education, in tune with modern music tastes. 
Prior to launching Virtuoso, FutureDJs has been working in schools around the UK since 2015, writing books about 'How to DJ' , creating digital resources for teachers to deliver modern music lessons and setting the standard for DJ-ing with the world's first graded DJ exams — operated and awarded in partnership with the University of West London and accredited by Ofqual. All their tutors are used to providing the highest-quality education and have experience teaching in schools and are qualified to degree-level at a minimum. 
About Jaguar: 
Jaguar is a broadcaster, DJ and journalist from London. Through her roles as host of BBC Introducing Dance on Radio 1 and writer for the world's leading dance music magazine Mixmag, Jaguar has become the voice of the next generation of electronic music talent and a go-to tastemaker within the scene. 
Having played some of Europe's leading venues and festivals including Printworks, Warehouse Project, Pikes Ibiza, Glastonbury, and Dimensions Festival – Jaguar has become one of the most exciting breakthrough acts of 2021 and on trajectory to the upper echelons of the scene.