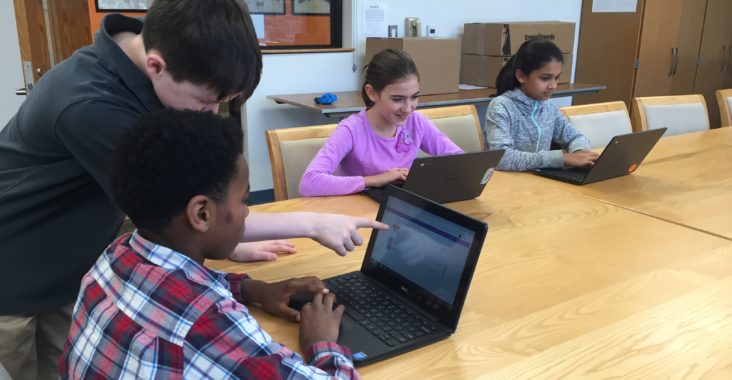 Student Radio in Short Hills, New Jersey
April 5, 2017
I recently met Mr. Thomas Berdos at the Texas Music Education Association annual convention in San Antonio. Mr. Berdos is an 18+ year music educator at The Pingry School in Short Hills, New Jersey. We chatted about a recent cross-curricular project he and his colleague, Jill Driscoll, had been working on.
This particular project which spans grades and ties together numerous classrooms and subjects, relies heavily on Soundtrap for audio capture and execution.  I knew as soon as I heard about the magic that was happening at Pingry I needed (and wanted) to share it with other educators asap!
Student Radio Project
WSHR Radio was created when Music, Library, Language Arts and Technology classes were combined in a unit for the Pingry 5th graders.  Students listen critically and research pieces of music. They write and record a narrative, splice the commentary with important parts of their chosen music and celebrate the created audio files by having their radio segments played over the PA in the hallways of the lower elementary at the start of each day.  These fantastic 5th grade students have now shared their knowledge & interest of music with the rest of the school, leveraging technology in a really awesome way while connecting to their language arts and library classes. I decided to ask Mr. Berdos a few questions about his and the student's experience thus far.
Meredith: What motivated you to organize this student project?
Mr. Berdos: I have always wanted to find ways for students to see music through the filter of other disciplines. One day on the way to work I was listening to my favorite classical station in the car. As I entered the building, I thought it would have been nice to hear the last selection I heard in the car playing in the hallways of the school, along with the show host's commentary. It came to me that we could do this with students doing the commentary. Our radio station, WSHR, was born.
Meredith: How did the other teachers in your district react to this project?
Mr. Berdos: Very enthusiastically! Pingry is an independent, private school with a unique and successful learning culture. The faculty members are encouraged to collaborate. So the collaboration of the WSHR unit between numerous disciplines was natural and easily gained traction.
Meredith: Did you encounter any roadblocks?
Mr. Berdos: When we started the WSHR unit, we broadcasted with a small bluetooth speaker on top of a cabinet in the hallway. We have "graduated" to a state-of-the-art bluetooth sound system installed in the ceiling of the hallways, which makes for wonderful sound fidelity. We originally used Audacity for the tech piece of the project. It was more complex than our students needed and we found Soundtrap to have the right mix of capability and user-friendliness. Switching to Soundtrap proved to be the right way to go forward.
Meredith: How did the students react to this project?
Mr. Berdos: Students are very interested in doing the project. All students in the school hear the music in the mornings. The fourth graders look forward to "next year" when they do the broadcasting. Students enjoy being assigned pieces of music, and learn not only about the music, but about their own capacity to appreciate new styles of music. Recently I heard from a student who was in our program a number of years ago, and he still remembers and enjoys his WSHR assigned piece. So the program has a lasting value on our students.
Meredith: How did Soundtrap aid with completion and success of these student projects?
Mr. Berdos: We could not do the unit without a program like Soundtrap. The fifth-grade students can record their own voices and also splice in their music all with little trouble. The recording part of the WSHR unit brings all the learning to life.
Meredith: Did using Soundtrap inspire you, or other content teachers in your building, to attempt or plan to attempt another outside-the-box student project using collaborative audio recording?
Mr. Berdos: I know that since we started using Soundtrap for the WSHR unit, the foreign language department has used Soundtrap for their recording needs.
Lesson & Class Details:
General Music – Students learn the skills necessary for listening critically to music and to make observations on the musical characteristics of the piece.
Library – Students research their assigned musical selections. They gather information about the piece: when it was composed, for what occasion was it composed, how it fits into the music of its time period, etc. They also gather information about the composers: when/where they lived, and interesting highlights of their lives.
Language Arts – Students create narratives based on their research. In addition to standard rules of grammar and punctuation, they learn the skills necessary to quote musical examples, italicize foreign language words, etc.
Technology Class – Students learn to use the online digital audio workstation Soundtrap to edit recordings. After their narratives are written, they record them and insert their recordings into the audio project of their piece. The finished product is a narrated mp3 to broadcast which includes the research, in their own voices, to share with the Pingry community.