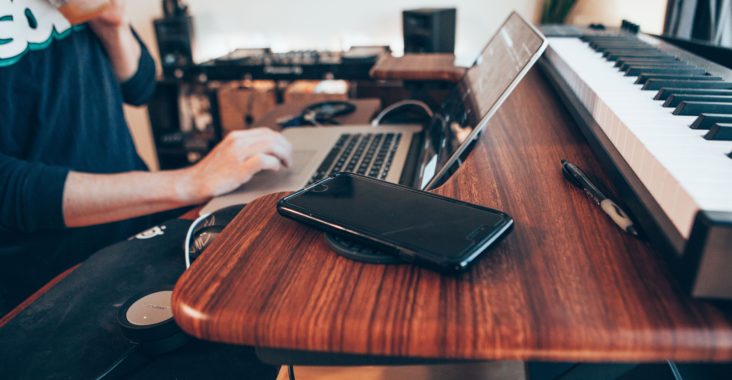 7 Tips for Developing a Digital Music Classroom
October 25, 2019
I live for the spine-tingling synth solo or the foot-tapping disco beat. Electronic music has not only motivated my music teaching, but also provided a reprieve from my everyday stresses. I see the same passion within my students when they share their favorite Imagine Dragons song or play me the melody to Megalovania (a couple hundred times). My students identify with the music they listen to and gain confidence when they're given the tools to perform or re-create it. In contrast, leaving contemporary music out of the classroom significantly limits any chance of students connecting education to the music of their lives.
Digital composition tools are an easy way to bring music into a classroom of students who consider technology as essential as breathing. Music technology is the glue that connects instrumental/compositional technique to the sound students understand and relate to. This technology includes audio-making software that lets every student, regardless of musical ability, explore valuable learning partnerships and author his or her own musical experience.
Tools encourage design thinking through students' natural curiosity, and encourage new forms of problem-solving through recreating and invention. What's more, today's web-based music programs are easy to access and have loads of tutorials. This makes it easy for students to work at their own pace within a creatively stimulating music app, compared to the more expensive versions of digital audio workstations (DAWs) which can be complicated and confusing for beginners.
Incorporating a digital composition tool into your teaching is a rewarding way to stimulate growth for both your students and your music program. It's certainly helped me ignite wonder and excitement in my students at Pioneer Charter Schools of Science, a STEM-based public charter school in Everett, Massachusetts. In addition to being a general music teacher, I'm also a Masters student at NYU for Music Technology and an electronic composer; I routinely present at state and national conferences on music technology education.
Making Music in a Digital Music Classroom
In collaboration with Berklee College of Music, I organized a project so that my fourth-grade students could work remotely alongside collegiate and international musicians. The fourth graders joined with singers and instrumentalists from as far away as Singapore to perform and record a mix of my NAFME-honored song, "Angel." Under the guidance of Berklee's renowned music technologist Chee-Ping Ho, and joined by famed saxophonist Fabian Lim, our creation blended an eclectic combination of orchestral and electronic music.
We used Soundtrap, a cloud-based audio recording studio and digital audio workstation (DAW), to stream chat, communicate with the other artists overseas, and record our cutting-edge musical piece. In all, more than 25 Pioneer choral students and another 15 ukulele students from a neighboring middle school took part in the recording process. A small choral group from Berklee also contributed, as did members of the college's orchestra.
When the song was complete and the kids got to hear the result, they were amazed at what they'd created online—an amazing project that extended across boundaries and geographies. They were accustomed to using technology, but taking part in this process opened their eyes to collaboration and all that goes into the construction of a song.
Fostering Equal Access, Equal Opportunities
By 2025, the Internet of Things (IoT) is projected to have 75.44 billion connected devices worldwide. This may seem staggering, but greater access to devices also means greater access to customized learning for students of all abilities. Expanded access also facilitates global partnerships between students, teachers and professionals.
I love using technology in the classroom because I believe that technology gives every student equal access to music making. Technology gives kids the ability to control electronic sounds that create meaning and feeling, which is exactly what we want to foster when we bring music tech into our classrooms. Students don't have to sing, play an instrument or read notes in order to make music electronically and engage in a creative, moving experience.
Sure, every new music technology program comes with a learning curve. As more schools incorporate digital technologies into their learning models, it's very easy to feel overwhelmed. With that in mind, I've pulled together some tips to help educators increase their comfort level with music technology and maximize the opportunities for bringing these tools to students in their music classrooms:
Approach with curiosity and open-mindedness. Begin by asking your students to listen to different types of popular music. Help them latch on to a genre or an artist that they like. Ask students questions such as: What do you like about this music? What is it about the rhythmic, melodic or instrument choice that fascinates you?
Be proactive. Talk with other educators who have experience with the educational technology you are interested in. There are many Facebook groups and organizations with online resources, blogs, chat forums and self-help videos. Use those resources!
Experiment. Help your students decide on a musical goal. Maybe they want to write a drum beat. Work with them to flip through web-apps or download demo software. The goal is for students to experiment and problem-solve their way towards building something musical.
Designate a little time every day to help your students be creative with technology. You can make a really cool beat in 10 minutes; you might be surprised at how this simple accomplishment inspires students to continue their work.
Make a final product you're proud of. Keep creating until it becomes truly meaningful to you. Creators don't create because they have to. They do it because they are driven to create; something inside of them wants to create a song a tune or a beat. When your students are done, help them share it with others. When they experience feedback, they will relish the thrill of sharing their art.
Repeat the process. Take the projects the students enjoyed most and share them with your classroom.
Ask for help. Students can be our best teachers. Teachers can embrace student work by using their feedback for future projects.
Above all, remain committed to your goal of bringing technology into the classroom. Like learning an instrument, technology can be mastered with routine practice and a focus on long-term growth.
Have fun with the process, allow your eager students to help you along the way, and embrace every obstacle as a learning experience. Happy music making!