Students Podcast the Fall of the Roman Empire
December 16, 2021
Paul Shawkat, history teacher at North Hollywood High School in the Los Angeles Unified School District (LAUSD), is integrating student-produced podcasts into the teaching of important historical periods. Once his district adopted Soundtrap and Shawkat began using the online recording studio in the classroom, he identified that the pandemic presented a unique opportunity to engage students by having them narrate historical vignettes through the voices of individuals who lived in those periods. Rather than the traditional approach of explaining history in the third person with references, he is asking his students to step into the roles of everyday people from significant moments in history to reflect on what it was like to live in that time.
Initiating the Project — Fall of the Roman Empire  
In the spring of 2020, Shawkat began to experiment with podcasts based on events of the 20th century, and by the fall of that same year, he fine-tuned his approach to apply to a specific field of study and a much earlier time period: the fall of the Roman Empire. He selected his AP class (part of the STEM program at the school) to participate in the two-week podcast exercise. Students were asked to pair into groups of two or three where each student chose a character from the time period to give different points of view authoring a story narrative in podcast form.
First, Shawkat shared a recorded example in Soundtrap with music added from loops as a template. From there he provided a rubric with a breakdown of historical events by date, ruler, economy, political stability, religion, and other important culturally relevant information of the time. Students were asked to examine specific elements their characters were facing, with Shawkat having them examine, "What kind of a person were they and what class did their character fit into at the time?" He adds, "They were asked to comment on a political situation, and who ruled at the time, a Roman Emperor or Barbarian King." Students used various online resources along with what they had learned in class to develop written narratives to be recorded.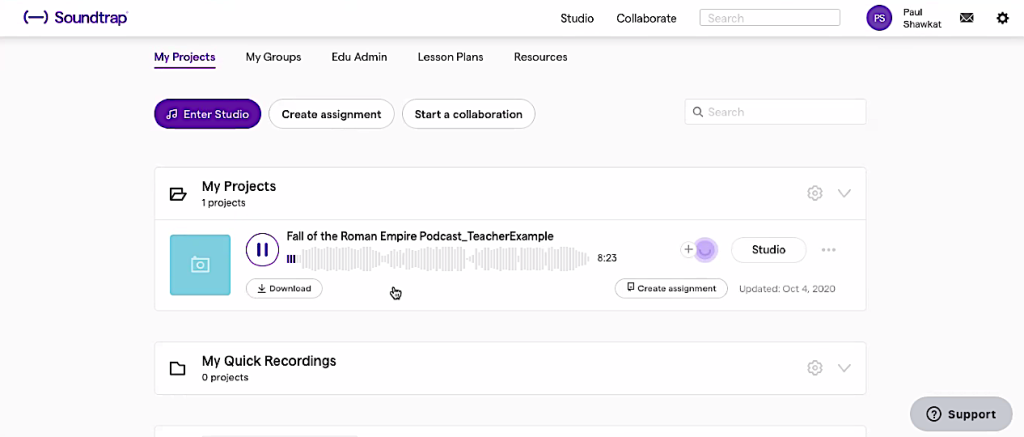 Virtual Production and Guidance Using Soundtrap
Once the students finished writing, it was time to produce the podcasts using Soundtrap. Although students worked outside of class time on the projects picking up the tools of the program from Shawkat's initial walkthrough, he dedicated a few sessions of class time to fine-tune the podcasts using the Soundtrap chat to talk with the groups of students. "I would create a placeholder for them and see their work in real-time similar to assignments in Google Docs, which I like to also use," he says.
Shawkat emphasized the need for music from loops to open and close the podcasts like a real-life show while adding transition music in between the characters' explanations. Sound effects were used from the Soundtrap options as well as the built-in keyboard to add effect to various elements of the production. "I told them to experiment with Soundtrap and have fun with it. I was really happy with what they came up with and some students went above and beyond," he adds.
At the end of the two-week assignment, two virtual classes were dedicated to showcasing the projects with all the students. "Once a group started then the rest opened up to sharing," he says. "I also left comments at the end of a rubric that I submitted on our Schoology LMS and it worked out well."
Listen to Examples of "The Fall of the Roman Empire Podcasts" Below:
Future Projects and Historical Connections
The success and student enjoyment in the podcast projects have ignited Shawkat's interest in expanding the podcast format moving forward. He plans to continue his rubric sharing while adding more production elements to the mix. He also plans on sharing the podcasts with the school's newspaper and even applying past podcasts to his present teaching.
"I'm thinking of doing a World War I soldier's diary using Soundtrap. I'm excited because World War I is kind of my specialty. It's where I geek out in front of students."
There is a refreshing element to Shawkat's approach to augmenting learning with interactive methods that ask students to meld the traditional with creative project-based work. Asking students to embody the past through emotional commitment to time and place allows them to interconnect with parallels to living today. Whether talking about the Antonine Plague of the second century as it relates to Covid-19 or a drought in southern Europe that affected the lives of people much like climate change does today, Shawkat is using podcast learning to dive deeper into the humanity behind the history. 
"I would imagine that by doing the project they're probably not going to forget the Roman Empire and how it fell," he says.