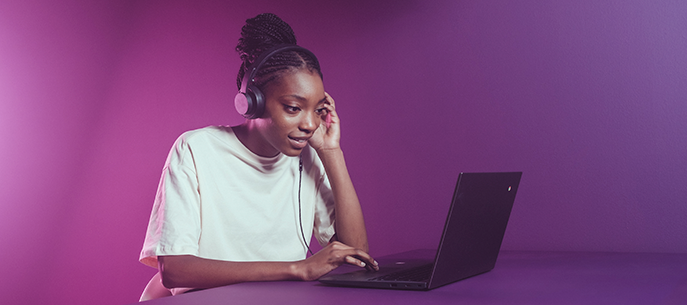 Increase Student Engagement With Soundtrap for Education
December 16, 2022
Your students may be showing up to class on time and completing their work, but are they truly engaging with your teaching materials? If you're tired of watching your students' eyes glaze over amid your lectures or demanding that students put away their cell phones, it's time for a new approach, and we're here to help you increase student engagement! 
Today, we'll discuss why student engagement is vital to effective teaching and how you can leverage the power of music to create energizing educational experiences.
So, What Is Student Engagement?
You've probably heard the term "student engagement" before, but it's so much more than another education buzzword. Student engagement is the driving force behind rich educational experiences that students can take with them long after they leave your classroom. It's the difference between your students begrudgingly tending to their assignments and being excited about coming to your class.
According to The Glossary of Education Reform, student engagement "refers to the degree of attention, curiosity, interest, optimism, and passion that students show when they are learning or being taught, which extends to the level of motivation they have to learn and progress in their education."
But, contrary to popular belief, student engagement also refers to how teachers encourage students to enjoy their educational experience. When students fully engage with learning materials, they think critically about the subject matter and retain information better. Ultimately, student engagement ensures students get the most out of their educational experience.
The Three Pillars of Student Engagement
If you're ready to create motivating and mind-bending educational experiences, you'll need to start with the basics. "Student engagement" is a broad term that encompasses the following three pillars of student engagement. Harness the power of all three for lively, entertaining lesson plans!
Academic Engagement
Have you ever seen your students so immersed in a lecture that outside distractions appear to melt away? This is a prime example of academic engagement. When you cultivate intellectual engagement, students develop their executive functioning skills as they learn about time management and the importance of staying on task.
Intellectual Engagement
Intellectual engagement involves harnessing their attention by making your lesson seem worthwhile. If your students find your lesson plans boring, too challenging, or too easy, their attention will surely waiver. It isn't easy to spur internal motivation in someone else, but it's possible with the right approach. You can inspire intellectual engagement by designing authentic activities that develop students' critical thinking skills in a creatively energized environment.
Social-Emotional Engagement
Educators often consider school a place where students develop their academic knowledge and skills. Meanwhile, students are interested in hanging out with their friends, playing sports, and joining clubs. The social-emotional element of the school is vital for students. It allows them to develop their identity beyond their families. Additionally, students can learn to connect and interact with adults as part of a larger society. 
But students can only reap the full breadth of these benefits if you take the time to foster social-emotional engagement in the classroom. The great news is that this is fun and easy compared to some other aspects of teaching. Let students unleash their creativity with hands-on, collaborative activities to form stronger peer connections. And don't forget to open up and let your students get to know you. This way, students can understand that you're there for them whether they need help with their homework or valuable life advice.
Music's Role in Student Engagement 
So, how can you actionably cultivate student engagement and get your students excited about learning? A great place to start is by introducing music education into your curriculum – and you don't need to be a music teacher to get started!
There's plenty of academic research to support the assertion that music education dramatically increases student engagement. For instance, several studies connect musical education to improvements in problem-solving, reading, and memory. In 2018, Frontiers in Neuroscience published a longitudinal study of 147 children which found that studying music in structured classes improved language-based reasoning, planning, the ability to sustain focus, and planning in just 18 months.
However, student engagement is about much more than enhancing cognitive skills. It's also about allowing your students to experience the joy of learning. Incorporating songs and melodies into subjects like science, math, and language arts can excite any classroom. 
Recent publications from researchers Chip and Dan Heath suggest that student engagement increases when teachers create more "peak moments" through positive learning experiences. Furthermore, students and educators form mutual respect through these magical moments. Luckily, music is one of the most effective and straightforward ways to create these experiences in the classroom. Read on for real-world examples you can incorporate in your class.
5 Ways to Increase Student Engagement with Soundtrap for Education
Incorporating music into your lesson plans is much easier than you may initially think. Soundtrap for Education makes it simple with tutorials and teacher resources you can pull from at any time. Whether you teach mathematics, science, English, or even geography, there's a music-friendly lesson plan your students will love.
1. Approach Mathematical Concepts Differently
Do fractions have your students feeling frazzled? Elementary students often feel that adding and subtracting fractions is intimidating. Sometimes, students need to see complex math concepts from a new perspective to understand how these ideas translate to the real world.
If your students are becoming frustrated with fractions, ramp up their engagement with an exciting Fractions & Pizza activity! This activity will allow students to visualize fractions in a brand-new way to boost their confidence and academic engagement. Students will have a blast working together and creating their mathematical beats in Soundtrap, allowing them to understand how fractions relate to their favorite songs.
2.Modernize Classic Literature
For many people, it seems like the world moves at a breakneck pace, especially for a generation of digital native students. Consequently, you might find it challenging to spur student engagement when explaining long, archaic texts like Shakespeare. 
Try adding a modern twist to classic literature with a Shakespeare and Hip-Hop activity. Let your students find their groove and experience Shakespeare never like before by rapping sonnets over their tracks. Students can use this opportunity to connect with peers while bringing classic literature into the modern world. You can also encourage social-emotional engagement by letting students share their creations on the school website.
3. Help Students Get in Touch with Their Emotions
When students develop the ability to express their emotions with clarity and confidence, they grow into well-rounded adults that can connect with others on a deeper level. As an educator, it's important to foster the growth of peer-to-peer and teacher-to-student relationships. These pivotal moments do more than increase social-emotional engagement – they help students develop their identities.
A great way to cultivate student engagement through music is by incorporating an Emoji Lesson into your curriculum. In this lesson plan, students can open up and express their feelings by creating an original song based on an emoji that correlates with their emotional state. The best part about the Emoji Lesson is that you can incorporate it within any class.
4. Get Creative with Coding
If coding throws your students for a loop, it's time for a different approach. Computer programming can be tricky, but putting abstract concepts in a new context can make them much easier to understand.
Computer programming loops are about repeating a sequence of instructions, but your students' engagement may dwindle if they need help understanding how to use these core concepts. In our Music, Loops, Coding, Oh My! lesson plan, students will use pre-recorded loops to create their songs and discuss how circles relate to computer programming.
5. Bring History to Life
Many students consider history boring because they feel they're only memorizing names and dates. But the truth is historical knowledge increases cultural sensitivity while encouraging students to consider alternative perspectives on global issues. A creative, engaging activity is what your students need to understand the value that history class has to offer.
For instance, you can bring a lackluster history lesson to life by letting students experience The Sound & Feel of the 1920s. In this lesson plan, students will analyze art from the 1920s and create a song representing an image from a specific time in their life. Upon completion, students will understand how music connects the past and present.
Cultivate Student Engagement with Soundtrap for Education
Soundtrap for Education is the ultimate audio production platform for students and teachers to create and edit audio recordings. Pupils and educators can easily tap into their artistic side with this intuitive audio platform that facilitates a creative learning environment for every subject, regardless of the student's age or experience level.
With Soundtrap for Education, students and teachers can collaborate with advanced cloud technology at any time or place. In addition, the platform comes equipped with a robust resource portal, with tutorials, an external curriculum, and lesson plans to complete the educational experience. And to ensure privacy, teachers can ensure that student collaboration is safe and secure with invite-only groups in Soundtrap's versatile digital environment. 
If you're ready to enhance your educational experience with an intuitive cloud-based audio production platform, get started today with Soundtrap for Education! And be sure to share this article with other teachers in your network to help spread the joy of learning through sound.