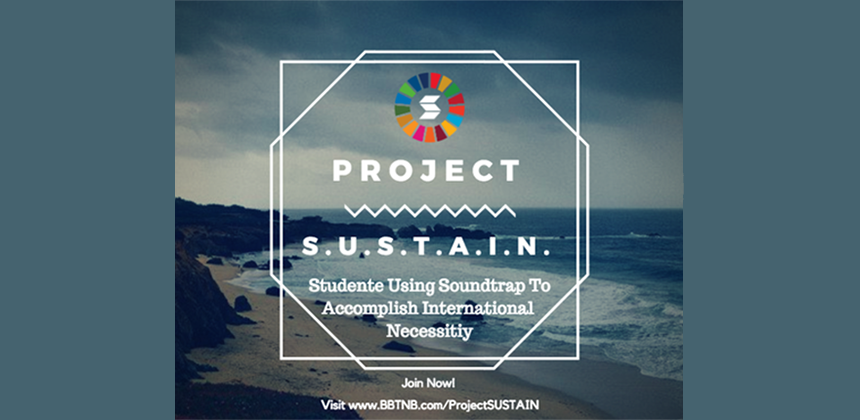 Using Soundtrap to Accomplish International Necessity
June 12, 2018
This email came through our inboxes recently and we just HAD to post!
I thought I'd share this with you. This is our first big original songwriting collab project using Soundtrap.  I had a group of 7th & 8th graders working on a track for Ben Kelly's Project S.U.S.T.A.I.N album and they are finally ready for their presentation at the S.A.I.L. Visual and Performing Arts showcase!
The kids did everything.  They chose the topic from the 17 UN Sustainable Development Goals, researched, wrote the lyrics, came up with the chords & melodies, recorded all the parts either with live instruments/voices or MIDI and then they got the middle school Chorus to join in on the end.  I just helped them stay organized! Finding time to get a group of music kids to work on an extra project amidst all their extracurricular music activities is not an easy task. They are psyched to be sharing their project with you!
General Music, Choral & Steel Band Director
Gorham Middle School, Gorham, Maine, USA
AMAZING! We immediately got in touch with Ben Kelly to share Tracy's story along with her student's composition. He responded with the following:
"It has been a lot of fun! Managing global projects is barely something one can do while full-time teaching 
 Project SUSTAIN – Students Using
Soundtrap
To Accomplish International Necessity – started in September 2017 and might have to take two school years to actually fill the 17 track album.
Below is the world premiere of the first 3 tracks of the album just for you! Nobody has heard these songs yet. We obviously will have much more to come and Tracy's track will go perfectly on this album!"
Apple Distinguished Educator, Global Minecraft Mentor, Microsoft Innovative Edu Expert teaching in New Brunswick, Canada
Project SUSTAIN Album Sneak Peak 2018 Intro –
Nathan Grade 12 Canada
SDG 1 No Poverty – "P.O.O.R." By Nathan in Canada
SDG 2 No Hunger – "Hungry" (By Sydney in The USA)
Enjoy the above exclusive sneak peek:-) There is some really awesome stuff happening with this project and more to come! If you are interested or want more information, please visit: http://www.sdgsedu.com/project-sustain.html