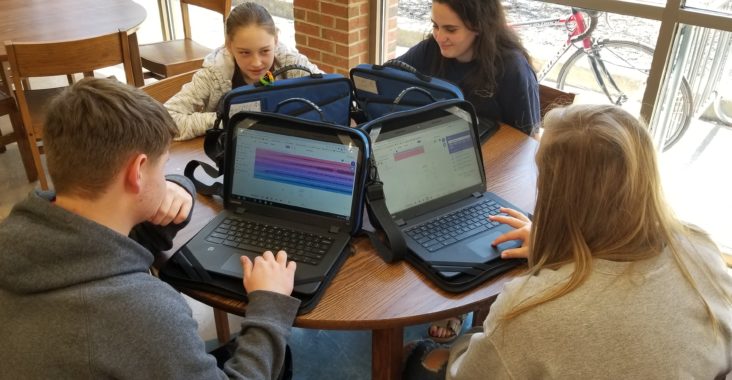 A Better Way – Guest Post by Stephen Keys
May 4, 2018
For the past 10 years, not only have I taught middle school and high school band, I have had to teach courses in "General Music" and "Arts and Humanities". In Kentucky, all high school students are required to have at least 1 credit in the Arts to graduate. Most students earn this credit through participation in band, choir, orchestra, and visual arts classes (hands-on learning as it should be). For the rest of the school population, they are placed in an "arts overview" type class.
Now, I think it is so beneficial that all students have some grounding in the art. But, the best way to learn about the arts is to do the arts. Unfortunately, with budgets the way they are, we can not put instruments in everyone's hands. And standing in front of a classroom of students lecturing about Beethoven, Picasso, Ballet, and Shakespeare followed by a few worksheets has been a nightmare. I have always looked for a better way. A better way for me to teach the class and a better way to get the students doing the class.
Enter SOUNDTRAP. Soundtrap is an online, cross-platform music sampling program. Students can now create their own musical pieces from the Chromebook, tablet, or even their phones. As a teacher, Soundtrap allows me to cover the elements of music (rhythm, tempo, dynamics, form, texture, timbre, and essential vocabulary) in a more contemporary manner that the students are used to. And there is more doing by the students and less lecture by the teacher.
With Soundtrap, we are able to approach music in different ways. Yes we do a lot of strictly music projects. We create ringtones, musical mashups, students create their own "jams" and with my guidelines, we cover the elements of music. We also so a lot of other projects that are not music-specific, but incorporate music into them. Students create musical accompaniments to poems they are studying in their Language Arts classes. Students take historical speeches they are introduced to in Social Studies class and mix them with sounds. Students create podcast over topics of their choosing.
This has been my first year with my students having 1:1 Chromebooks. As I sit and watch them work on their projects and actually laugh & smile (occasionally…after they are middle school kids!), I just wonder what it would have been like to have access to a program such as Soundtrap 10 years ago. How much more fun and engaging my classes might have been for my past students. Yes, there still is the occasional lecture and yes my students are still introduced to "the masters". But they are so much more engaged now.
As I start to finalize and clean up the lesson plans and outlines for the different projects I will be sure to post them on my personal blog. But please visit the Soundtrap website for a trial EDU version as well as the Soundtrap EDU Blog for other lesson ideas submitted by educators who have used the program in their classes.