The Power of Poetry Merged with Music
May 13, 2021
Do music educators know that poetry merged with music is underrepresented? On January 20, 2021, Amanda Gorman took the stage at the American presidential inauguration by addressing "Mr. President, Dr. Biden, Madam Vice President, Mr. Emhoff, Americans and the world" to begin her poem "The Hill We Climb." She was right in addressing the world as nearly 40 million people watched this historic event. Though her words were spoken for a primarily American audience, the power of what she shared was felt beyond borders. Her message was brutally honest, and at times difficult and challenging to hear, yet instilled a sense of hope with a reminder of our personal responsibility and a call to action.
What Ms. Gorman brought to the stage that day was a breathtaking combination of social responsiveness, culture, and artistic excellence that created a stir among all who witnessed the nearly six minutes of poetic inspiration. The buzz around her poem and performance did not soon dissipate as the internet lit up with quotes and images circulated on both mainstream and social media.
Christopher Emdin, a respected author and educator from New York, described it well in his post on Twitter: Many may not want to admit it, but #AmandaGorman served us presidential hip-hop. She gave wordplay, the cadence, the rhyme schemes, the hand gestures. You can extract the hip-hop from it to make yourself comfortable, but that was the culture on full display #HipHopEd 
Music, and hip-hop specifically, has never been one-dimensional. It is multifaceted and draws on a multitude of sources and inspirations, which make it such a dynamic art form. Often when exploring hip-hop and songwriting, younger students struggle with writing lyrics. This is not to say that they don't have anything to say, just that they haven't yet learned how to find their voice or give voice to their lived and observed experiences. Poetry is an exercise in this skill that not only helps students find their voice, but taps into their social-emotional learning and development. Hip-hop closes the gap between linguistic vulnerability and the movement of beat and melody that can express that same vulnerability in non-verbal ways.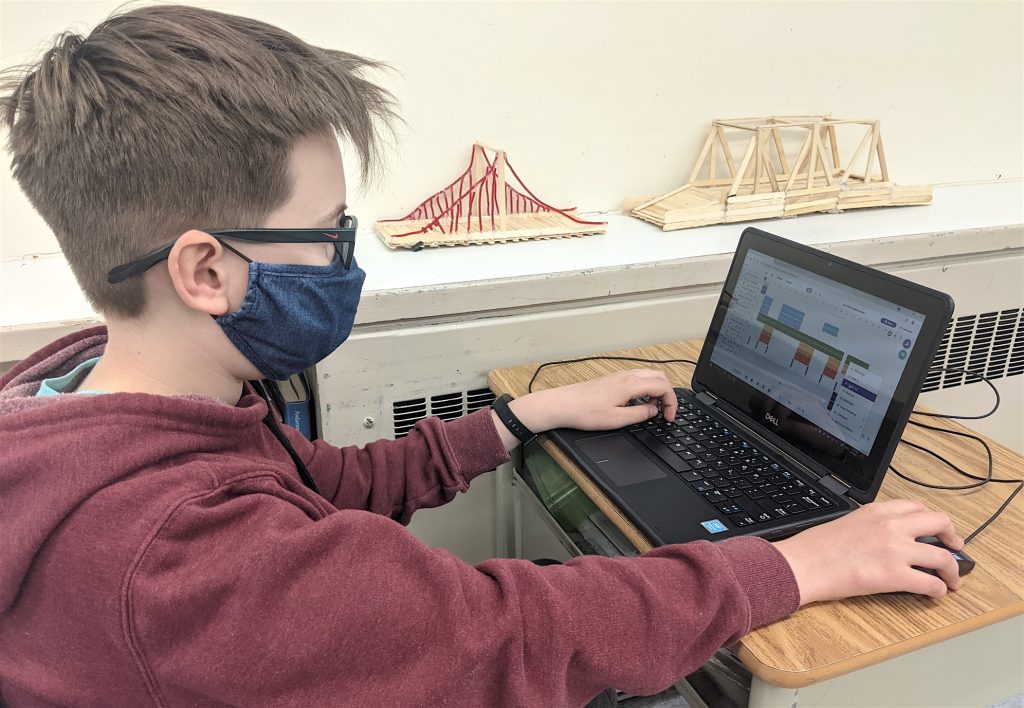 In preparation for an assignment, my grades 7 and 8 students listened to, watched, read, analysed, and shared their interpretations of Ms. Gorman's poem, "The Hill We Climb." We talked about literary devices and explored cadence and tone. Then it was their turn to create. Students were given the original audio file from Ms. Gorman's performance at the inauguration and were asked to create a musical setting to accentuate the performance that would explore their personal interpretation of the poem.  They then had to write one or two paragraphs describing how they interpreted the poem, what they were trying to do musically to support that interpretation, and how they accomplished that task.
As I was grading their assignments one Saturday evening, there was one arrangement that caught my ear and I had to go back and listen to it again. I grade "blind," so I didn't know whose work I was listening to, but I was struck by several musical elements that seemed really well executed for a student in grade 7. I was already impressed after listening to the arrangement when I read the written portion of his assignment:
"…I added pop music to go along with the [most] incredible and powerful poem I ever heard … I added the American anthem because it's supposed to be for America, so I embrace that. Step two was tone and pitch. I tried to change the pitch so everything could blend in like a piece of art. Sometimes you can hear the American anthem too. And step 3 was transition. I'm not very good at transition, but I got better. What I thought was the most interesting about the poem is that it's supposed to be happy and tells a story about an American country facing challenges but conquering them. Some but not all of them…"
Conner's Audio Tracks on Soundtrap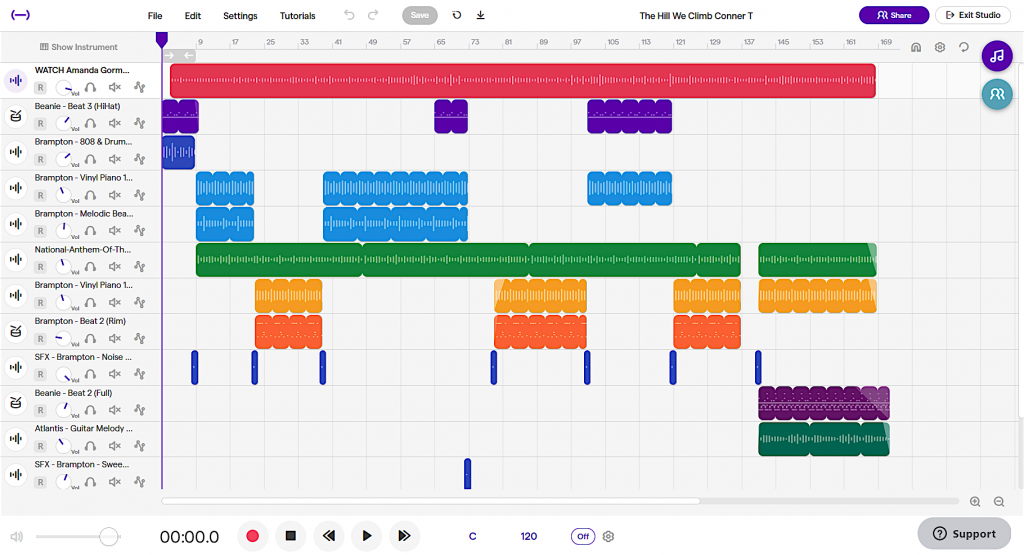 Listen Below to Conner's Creative Project Set to Amanda Gorman's Inaugural Address of Her Poem, "The Hill We Climb"
It was then that it hit me. Conner's work was a powerful representation of systemic racism. The topic of systemic racism may make people uncomfortable because we recognize that it's a "bad thing," but it's hard to really understand what it is, even as adults. What I heard and saw in his Soundtrap arrangement was the recitation of Ms. Gorman's poem, perfectly steady at 120bpm, never missing a single beat, accompanied by the American national anthem – barely audible but always present – and a number of hip-hop inspired tracks that wove in and out of her speech.
The "system" was set by the presence of the national anthem and all the other elements had to work within those conditions. It was only when new musical ideas didn't quite fit with the chord progression or meter of the national anthem that you could even hear or notice that it was there. And that is systemic racism. It is trying to exist or create change within a system that wasn't designed for you and is unmoving. As long as you stay within the existing parameters, you're fine but fall out of step and all you hear is dissonance. It isn't a matter of nationalism per se; it is simply the lived experience of trying to exist authentically within a (musical) system that wasn't designed for you. This profound work led to a number of very deep and meaningful class conversations that still come up from time to time.
When I had assigned this project, I had simply hoped to introduce the topic of poetry and the power of music to accentuate and influence the interpretation of spoken word. I would never have guessed that a grade 7 student's school assignment would have such a profound impact on me personally.
"If we merge mercy with might,
and might with right,
then love becomes our legacy,
and change our children's birthright."
About the Author
Melissa Burns is a Music Specialist and the Esports Director at Archwood School in the Louis Riel School Division of Winnipeg, Manitoba, Canada.