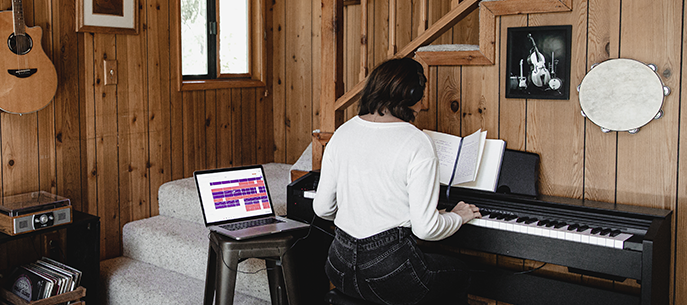 Music and Mental Health: Exploring the Connection
April 14, 2023
Almost everyone listens to music. More than mere entertainment, it helps us express profound emotions we can't express aloud. In fact, music and mental health are closely related. People have always used music to tell stories and cope with the ups and downs of daily life. And in recent years, mental health experts have discovered that music can help people manage depression, anxiety, and plenty of other mental health issues.
Exploring the connection between music and mental health in the classroom presents an excellent opportunity for students to learn healthy ways to cope with emotions. Whether your students are stressed from classes, extracurricular activities, or their home lives, engaging in music provides a healthy way to express their innermost thoughts and feelings.
Even if you're not a music teacher, it's easier than ever for students to experiment with music in the classroom! Today, we'll explain how music can improve your students' mental health and show you how to bring the power of music to your lesson plans.
Music and Mental Health: What Is Music Therapy?
It's impossible to talk about the connection between music and mental health without mentioning music therapy. Basically, music therapy is a research-based practice that uses music to improve a person's mental health and overall well-being.
Music therapy encourages positive coping strategies. Even if you're not a licensed therapist, your students can reap the emotional benefits of music therapy by creating music with peers in the classroom. Simply listening to music or creating a podcast with musical elements can profoundly affect your students' overall mental health.
Music and Mental Health: How Does Music Education Improve Students' Mental Health?
The benefits of music education are well-documented. Although most educators are keenly aware that music education improves academic performance, some overlook the mental health benefits that music education has to offer. With modern teaching methods, your students will experience these exciting benefits when exploring music and mental health.
Music Education Improves Well-Being
Your students are still learning about their likes and dislikes and who they really are. The stress of growing into adulthood while balancing schoolwork and a busy social life can take its toll on students' mental wellness. Fortunately, music education can alleviate this stress and improve your students' mental well-being.
Mental well-being refers to a person's ability to connect with others and find pleasure in their daily life. Another measure of psychological health is a person's sense of self-esteem. While students are still developing these qualities, music education is a great way to positively influence their mental well-being from the ground up.
Music Education Increases Motivation
There's plenty of research to support the positive impact of music on the brain. Listening to music activates multiple areas of the brain — including the auditory cortex, cerebellum, and limbic system — all at the exact same time! Bringing music into the classroom engages your students' brains, making it easier for them to learn new topics and pay attention to lesson plans.
Listening to and creating music also floods the brain with dopamine, which increases student motivation, even with subjects they may otherwise find mundane. By learning about topics with a fun, music-centric focus, students will feel more engaged, thereby creating a successful learning environment.
Music Education Reduces Symptoms of Anxiety and Depression
When stress accumulates and your students don't have a healthy outlet for their emotions, it quickly turns into anxiety or depression. Students below college age are particularly prone to anxiety and depression because their brains are still developing. 
Fortunately, numerous studies support a positive correlation between music and mental health. Whether students are listening to music or creating their own, both are healthy ways to manage symptoms of anxiety and depression. As students unleash their bottled-up emotions and connect with their peers, the heavy weight of mental illness will begin to lighten.
Explore Music and Mental Health with Soundtrap
Mental health can be a touchy subject for some students, but making music can be fun and exciting with the right tools! This is a great chance for students to open up and connect with each other through the power of music. 
With Soundtrap, students can create, connect, and collaborate while having fun. If you're not sure where to start, these engaging lesson plans will point you in the right direction.
Teach Your Class About Music & Well-Being
Music education is a powerful tool when teaching students how to manage stress and understand their innermost feelings. With our Music & Well-Being lesson plan, you can show students how to use music to unwind whenever they feel overwhelmed or upset. 
Get started by introducing the class to the lesson plan and ask your students a few questions about how they handle stressful situations. Once the entire class is warmed up, ask your students to answer these questions on a piece of paper:
"On a scale of one to ten, how stressed are you right now?"

"When was the last time you took a slow, conscious breath?"

"Have you felt frustrated today?"

"Have you felt joy today?"

"When was the last time you laughed?"

"On a scale of one to ten, how tense is your body?"

"Are any parts of your body tense or in pain?"
Next, set a timer for the listening activity and choose a song from this playlist. Have students take a seat on the floor in a cross-legged position while they listen to the music. Allow the class to relax and feel any emotions or physical sensations that arise. Then, the class will answer the questions again with a fresh perspective.
If you want to take this lesson plan a step further, try letting your students create their own relaxing music with Soundtrap!
Use Emojis to Learn About Emotions
Most children have intense emotional experiences before they know how to identify their feelings. If you teach young students, you may notice that they're often caught in a frenzy of frustration or joy. Despite these overpowering feelings, younger students may struggle to identify or express their emotions clearly. If you're ready to teach your students more about identifying their feelings, our Emoji Lesson will guide you along the way!
First off, ask your students to take a look at this feeling wheel or an emoji chart to help them get in touch with their emotions. Ask your class to share their feelings. Next, give students a pen and paper and ask them to fold it into four boxes.
As students listen to these four songs, they will draw what they hear and write about the mood of each song. Then, discuss each song with the entire class and help students understand what makes a song convey a certain emotion.
Now for the best part! Share a blank Soundtrap assignment with your students, and they'll pick an emoji related to the emotion that their song is based on. Once students create their song, they can share it with the rest of the class, and everyone will guess which emoji inspired the song!
Create Student Podcasts About Mental Illness
Don't be afraid to add podcasting into the mix when exploring the connection between music and mental health. As students create their own podcasts, they can add music and sound effects that enhance their storytelling. With our Podcasts About Mental Illness lesson plan, students get a chance to learn about different mental illnesses by creating their own educational podcast.
Let your students know that their next project will be a 10-minute podcast that includes information about mental illness or a related topic. The topic should be something that influences their personal lives or interests them.
Once your students have chosen a topic, they'll reach out to experts on their topic for interviews and begin researching for their podcast script. When they have enough material, they'll start creating their podcast script.
Lastly, your students will open up a blank template in Soundtrap to record and edit their podcasts. And, of course, they can add plenty of sound clips and music tracks from our loop library before they share their podcasts with the world!
Explore Music and Mental Health with Soundtrap for Education
Soundtrap for Education is the ultimate audio production platform for students and teachers to create and edit audio recordings. Pupils and educators can easily tap into their artistic side with this intuitive audio platform that facilitates a creative learning environment for every subject, regardless of the student's age or experience level.
With Soundtrap for Education, students and teachers can collaborate with advanced cloud technology at any time or place. In addition, the platform comes equipped with a robust resource portal, with tutorials, an external curriculum, and lesson plans to complete the educational experience. And to ensure privacy, teachers can ensure that student collaboration is safe and secure with invite-only groups in Soundtrap's versatile digital environment. 
If you're ready to enhance your educational experience with an intuitive cloud-based audio production platform, get started today with Soundtrap for Education! And be sure to share this article with other teachers in your network to help spread the joy of learning through sound.