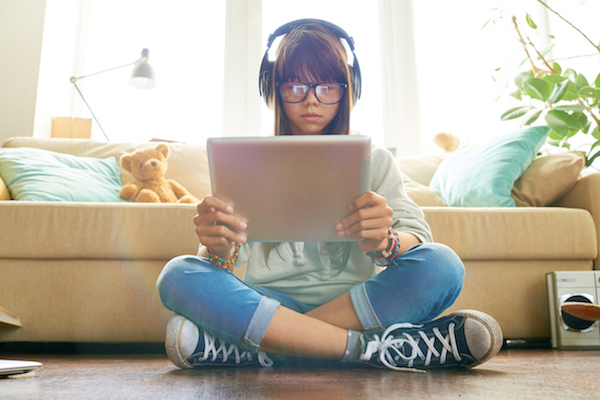 Engage Students With Digital Music-Making Tools
February 8, 2017
One of my challenges as a music teacher is finding digital music-making tools that inspire and motivate my students and engage them musically, regardless of their individual abilities. Of course, all this inspiration and motivation must co-exist with my commitment to provide them with the skills necessary to become successful team players, communicators, problem solvers and critical thinkers—traits employers look for when hiring in today's competitive workforce.
I've taught music full-time for a few years. Right now I teach grades 1 through 9 at Lake Travis STEM Academy, just outside Austin, Texas. A couple years ago, while I was teaching percussion classes at Wiley Middle School in Leander, Texas, a sixth-grader, Sam, would come to class for his percussion lessons. Instead of playing percussion, we'd wind up creating music electronically. He was so eager to get on the computer, and he would quickly create impressive pieces of music. Just seeing that excitement and raw creativity made it easy for me to imagine an innovative, vibrant movement of kids sharing music and impacting the world. It was the impetus I needed to shift from teaching percussion to teaching electronic music making.
Connecting in New Ways
Electronic music making allows kids to express themselves and their individuality through a genre they are familiar with. Instead of handing students a method book or user's manual and asking them to produce exactly the same thing as the student sitting next to them, they can compose or remix some of their favorite artists or genres—or create something totally new on their own. Then, by sharing their music online and enlisting feedback, they connect with their peers in a meaningful way.
Learning the trumpet or drums is great and playing an instrument is a valued skill. (Percussion is still a great passion of mine and it's how I got my start.) But the options are limited and can be expensive. Traditional musical instruments exist within their own little bubble. Mostly, their functions are confined to the classroom. Furthermore, students with disabilities are sometimes unable to play a traditional instrument. But their physical situation shouldn't hold them back from experiencing the joy of music.
Through electronic music, students can learn new tools. Often, they can't wait to share what they've created with their peers. They never seem to tire of making music, and so they work on their projects at home, communicate back and forth, and create more tunes.
With this inspiration, my instruction grew to a handful of kids making cool music and getting really excited about it. They'd come to class and tell me they shared their music with friends, who thought it was awesome and later found ways to get involved. Students were getting great confidence boosts because of the music they created and shared.
These experiences lend themselves to project-based learning: Students who experience collaborative learning models develop a deeper understanding of the subject, exhibit greater problem-solving and critical-learning skills and convey greater confidence in their learning abilities. Just as important, they're building relationships essential to navigate those influential middle-school and high-school years.
Making Music in the Cloud
Today's music technology offers programs that are simpler and easier to use than the clunkier, more expensive programs of the past. I use Soundtrap's online recording studio. It's easier to use and less expensive than others I've tried. The cloud-based music-making tool gives students freedom to continue working on their projects from their mobile devices when they're home or hanging out with friends—long after class lets out—and it works across almost every platform, including iOS, Android, Chromebook, Windows and Linux. This mobility promotes round-the-clock learning—a dangling carrot for a generation that's rarely known life without a smartphone.
Right now, the students share their work independently, on their own channels, but I'm developing a more substantial way of sharing it through my company, ODO Sound's, platform and social media. ODO Sound is a global community of young, collaborative music makers using music as a vehicle to express themselves and form deeper relationships.
I just finished a contest for students to re-mix the battle music for Pokemon GO. Musicians from four countries participated and the results were extremely impressive. The kids love that they're creating music for something that they and their friends are using every day.
There's Magic in That Music
Researchers have found that music nurtures risk-taking, discipline, attention to detail, fine motor skills and emotional maturity. It's thrilling to see students with virtually no music background venture into this learning space. Making music is personal for them—a branding of sorts. One kid I teach loves a specific type of hip-hop. Another likes to make classical arrangements from songs she knows. One student made an eight-minute, 30-part orchestral score for music from the popular sci-fi film Interstellar. It was his first project!
I'll never dispute the ways in which playing an instrument helps students exhibit their independence and artistic creativity. But not every student has the interest, resolve or resources to play an instrument. Students learn best and employ a higher level of thinking when they create things to share with other people. Plus, at a time in our students' lives when they care deeply about how their peers see them, music can be the great equalizer.
Taylor Haun is a music instructor at Lake Travis STEM Academy in Austin, Texas.