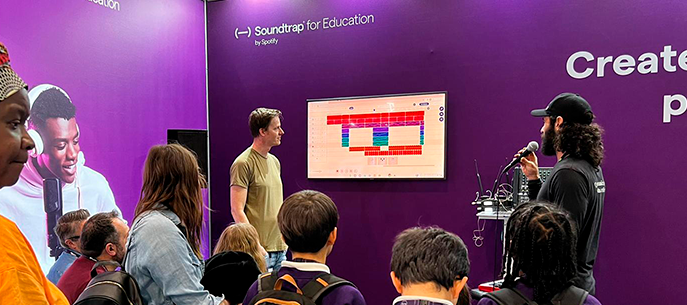 Soundtrap for Education at BETT UK
May 11, 2023
In March of 2023, Soundtrap for Education had the opportunity to connect with leaders in the education industry at the British Educational Training and Technology (BETT) event in London. The BETT is the biggest education technology exhibition in the world, with over 600+ Edtech providers meeting educators to showcase their cutting edge products. During the three day event, the Soundtrap team was able to showcase the innovative education-focused solutions offered through the Soundtrap Studio. 
Soundtrap for Education emphasizes the importance of empowering students to share their voices with the world and collaborate with others on their own terms. At BETT, we earned the opportunity to demonstrate the impactful ways educators can use Soundtrap to create, collaborate, and connect with students.Today, we'll give you the inside scoop of our time at the BETT event and share a few ways that Soundtrap for Education can revolutionize your teaching strategies. Let's go!
All About Soundtrap's BETT Event
If you missed out on the BETT event, we've got you covered!  If you're interested in bringing innovative Edtech to your classroom, our partner at MusicFirst will give you all the tools you need to integrate technology into your lesson plans.
Today, we'll review a few topics we discussed at BETT, so you can see what your friends at Soundtrap have been up to and what we're planning. 
Create with Loops
Our BETT event started with loads of loops! During this part of our event, we got the chance to teach our audience about all the cool, exciting features Soundtrap offers. As you know, Soundtrap makes it easier than ever to create mind-bending music at the touch of a button. 
If you're ready to create your own loops in Soundtrap, these simple steps will help you along the way:
First,

enter the Soundtrap studio

and

click the purple music note

in the right-hand corner to open up the loop library!

Next,

select "Choose Loop Filters"

to reveal the plethora of instruments and genres at your disposal. Click your favorite loop and

drag it to the "Add Track" sidebar.

Once you've added the track, you can

use the Control Panel at the bottom of the screen

to adjust the tempo.

Now, you can

drag the track

to make the loop as long or short as you desire.
Feel free to layer as many loops as you please and record a few tracks of your own to create a stellar song! Creating loops is an awesome way to teach beginners how to create music, but even experienced students can use our extensive Loop Library to support their efforts.
Program Drums with the Patterns Beatmaker
You'll need a bangin' beat to create your musical masterpiece! Fortunately, programming drums is a breeze with Soundtrap's Patterns Beatmaker. At the BETT, we got a chance to show attendees this awesome tool firsthand! Empowered by advanced AI technology, students can use the Patterns Beatmaker to create groovy beats and learn more about how each music element works to create full length songs.
Getting started with the Patterns Beatmaker is as easy as the following steps:
Open up Soundtrap and access the Patterns Beatmaker by

selecting add a new track and the "Drums and Beats" button.

You can also

select the Patterns Beatmaker icon

to use this feature.

Next, choose your favorite

Drum Machine or Drum Kit

to work with by testing out a few sounds.

After selecting a beat, you'll see a purple bar where you can experiment with the Patterns Beatmaker and create a unique beat!
And that's all there is to it! Creating beats in the classroom is smooth and effortless with the right tools. Your students can use these dynamic beats to take their music to the next level and get in the groove!
Create, Transcribe & Edit Podcasts
Even students that aren't music makers can jump in the Soundtrap studio and let the world hear their voices through the power of podcasting. With an easy-to-use interface and plenty of online tutorials, your students can create their own podcasts in no time! 
During the BETT event, we got the opportunity to show attendees how they can create their own podcasts with students! Getting started is easier than ever, and you can bring podcasting to your classroom no matter what subject you teach. 
And to sweeten the deal, we made transcribing and editing podcasts a breeze with Soundtrap's Transcription feature. You can use this innovative tool to view and edit your podcast script word by word for a polished final project!
Real-Time Collaboration in Soundtrap
The Soundtrap studio is a safe space for students to create, collaborate and connect with each other from any time or place. And remember, since you can access Soundtrap from any internet-connected device and all your projects are stored in the cloud, you'll never lose any of your hard work!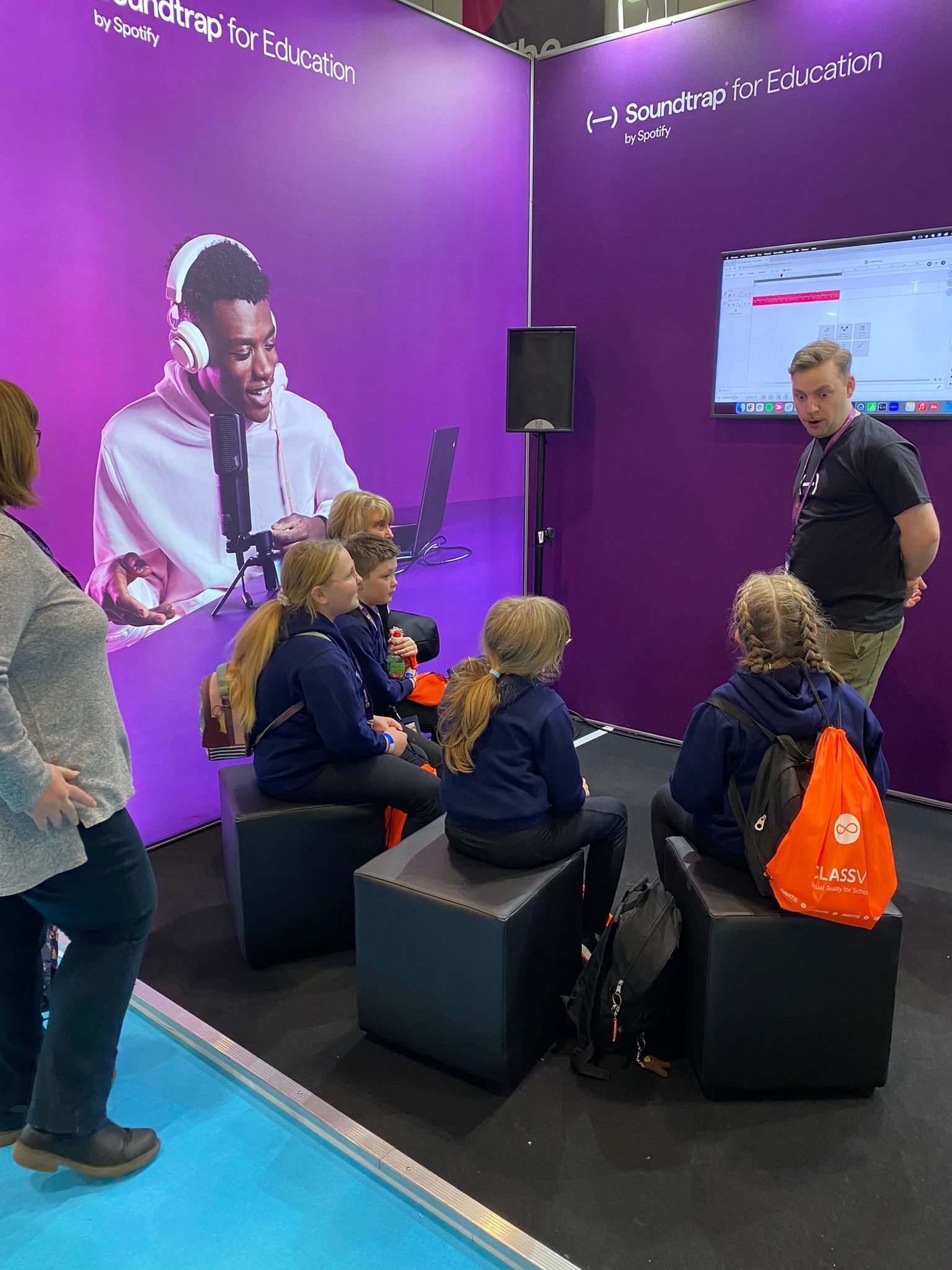 At our BETT event, we showed attendees how to use live collaboration, but we'll give you a quick overview below:
The Comments Feature.

You can add helpful Comments to a specific region of audio so that your collaborators fully understand your feedback. With this handy tool, you and all your collaborators can stay in sync without the need for long email chains and texts.

The Live Collab Feature.

You'll never miss a beat with Live Collab! You can work in real-time with your collaborators for a smooth, frictionless creative process from start to finish. The Live Collab feature allows you to stay productive without breaking your creative flow!

The Auto-Save Feature.

With Soundtrap's Auto-Save feature, there's no need to fret about losing any of your projects. This way, you can collaborate at any time or place and know that your Soundtrap projects are safe and sound.
At the BETT event, attendees witnessed the magnificent results of real-time collaboration empowered by Soundtrap's innovative cloud-based software. For instance, an educator named Aslak Skarderud from Trondheim Kommune spoke about how he overcame the challenges of Covid restrictions and remote learning to re-create the music from Moana with the entire class. If you're ready for limitless collaboration, Soundtrap for Education is here to help!
Exciting Ways to Bring Soundtrap for Education to Your Classroom
Music-makers and storytellers can leverage Soundtrap's many functionalities to express themselves in their own way!
During the BETT event, we discussed how educators could leverage the Assignment feature to simplify their teaching efforts, keep track of progress, and offer their students guidance as they bring their artistic visions to life! Let's discuss a few ways that you can empower the next generation of music makers and storytellers with Soundtrap for Education.
How Music Makers Can Experiment with Soundtrap for Education
With Soundtrap for Education, anyone can become a music maker! Even if you're not a music teacher, your students can use this dynamic DAW to memorize the periodic table of elements, understand coding, and learn about different cultures.
While there are innumerable ways that you can bring the power of music to your classroom, we hosted a presentation about how your students can use sampling to create hip-hop music during the BETT.
Sampling has always been an integral part of hip-hop music, and Soundtrap for Education makes hip-hop music creation more accessible for everyone. Even students without formal musical training can make unique music using samples. In the classroom, students can use these samples to create hip-hop music that helps them understand classic literature, such as Shakespeare. By teaching students how to sample and create their music; you can open up a new realm of creative expression with fun, exciting projects!
How Soundtrap Empowers Student Storytellers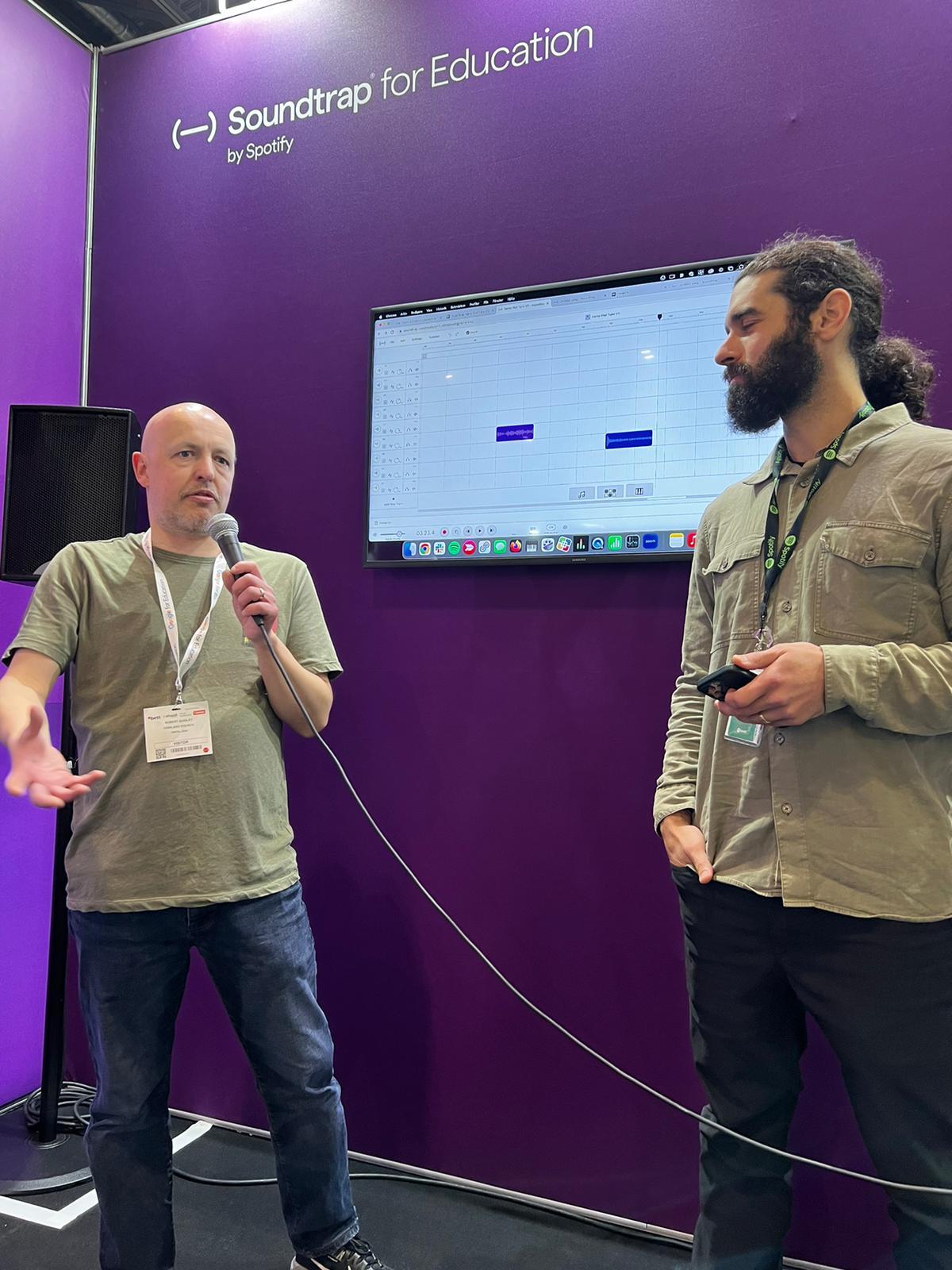 At the BETT, we invited guest speaker Robert Quigley, the Digital Lead Officer of the Highland region in Scotland, to speak about the many ways that Soundtrap empowers students' voices, with podcasting being the most notable.
Student podcasting is an excellent way for students to voice their opinions, cultivate empathy for others, and learn how to present information in a cohesive manner. With Soundtrap for Education, your students can create and edit their own podcast scripts, record their voices, and add all sorts of cool sound effects for a professional-sounding podcast.
If you want your students to take their podcasting skills to the next level, they can always create their own music and add it to their podcast as an intro or outro. Soundtrap for Storytellers allows students to hone public speaking and creative thinking skills that will serve them for a lifetime. 
Create, Collaborate, and Connect with Soundtrap for Education
Soundtrap for Education is the ultimate audio production platform for students and teachers to create and edit audio recordings. Pupils and educators can easily tap into their artistic side with this intuitive audio platform that facilitates a creative learning environment for every subject, regardless of the student's age or experience level.
With Soundtrap for Education, students and teachers can collaborate with advanced cloud technology anytime or anywhere. In addition, the platform comes equipped with a robust resource portal, with tutorials, an external curriculum, and lesson plans to complete the educational experience. And to ensure privacy, teachers can keep student collaboration safe and secure with invite-only groups in Soundtrap's versatile digital environment. 
If you're ready to enhance your educational experience with an intuitive cloud-based audio production platform, get started today with Soundtrap for Education! And be sure to share this article with other teachers in your network to help spread the joy of learning through sound.