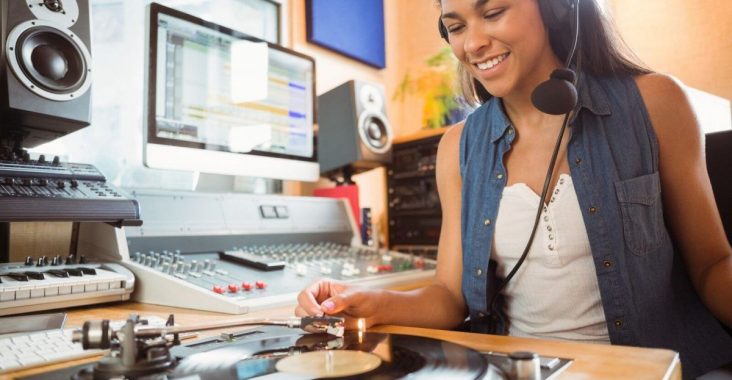 Digital Music-Making: Cross-Cultural Collaboration
October 3, 2018
One Canadian teacher brings teachers from Nigeria, Romania, US and Canada together under the United Nations' Sustainable Development Goals agenda.
Digital music-making has become a cross-cultural collaboration. There are many ways to collaborate remotely nowadays, such as social media, email and even video chats.
Teaching sustainability helps our kids understand the world's economic, social and environmental issues. Through this lens, my students and others like them around the globe are using music to promote a sustainable development agenda to end hunger and poverty, reduce inequality, manage climate change and foster peace. Sound like a tall order? We're tackling this life-changing agenda one song at a time.
I'm a technology teacher for grades 6 to 12 at Caledonia Regional High School in New Brunswick, and Lead of Innovative Design. Believing that we truly have the ability to save humanity, I recently became a TeachSDGs ambassador for the United Nations' 2030 Sustainable Development Goals agenda (https://www.un.org/sustainabledevelopment/sustainable-development-goals/).
The movement, which was adopted by world leaders in 2015, lists seventeen efforts to be put into action by 2030. The list includes such sweeping goals as wiping out poverty and hunger, gender equality, quality education for all, climate action and affordable and clean energy.
Making A World Of Difference With Cloud-Based Recordings
After becoming a TeachSDGs ambassador, I started exploring ways to raise awareness of these important goals, including moving the message beyond my classroom. For me, there's nothing more inspiring than music, and I knew it would be the foundation of this project. I've been a big fan of the cloud-based audio recording studio, Soundtrap (https://www. soundtrap.com/) since it was introduced to me at an educator's conference in 2016. As a teacher with a mission to bring music collaboratively to the world, I knew what to do.
And so I returned to the roots of my first Soundtrap project, a collaborative music album that was part of a larger curriculum to introduce the kids to different forms of media making. The students loved using Soundtrap. It's collaborative, easy to use, works across all platforms and devices, and every single one of my students made a track for the album. Soon, we were using Soundtrap in all nine of my classes.
We call this newest music album Project SUSTAIN, or Students Using Soundtrap to Accomplish International Necessity. It parallels the UN's goals perfectly, which they refer to as "The World's Largest Lesson."
To ensure that we had serious interest in our own backyard, I sent out a call to action to our students. I set up a virtual wall with the seventeen tracks, and right away, two 11th graders, a male and female, committed to the cause. They grabbed track five, which was the one on gender equality. They are creating a "call and response" type of song for that particular track. The male student performed the intro for the album with a very passionate speech. He also signed on for Goal 1, which is "No Poverty."
Hashtag: This Is How We Do It
Next, I used Twitter to get the word out using the #TeachSDGs hashtag. A whole list of international teachers, from kindergarten through post-secondary, signed on, including schools from Nigeria, Canada, New Zealand, Thailand, Germany, Vietnam and Romania. I used a Google form to find takers for the tracks.
It's exciting to watch this project attract so much interest from schools around the world. Some of us don't speak the same language, but the spirit of the cause and the universal emotion of music gives us common ground from which to deliver such an important international message. It would be fantastic to make the album on Soundtrap for release through Spotify. Ideally, we'd like to release the album next year. But we'll take the time we need because we want to do it right.
Here at Caledonia, our platform is Microsoft. The teachers like Soundtrap because it's just as compatible on the school's Microsoft Surface Studio desktops as it is on their Macs and the students' personal devices. Some of our teachers use Soundtrap to advance their core curriculum, and the students who started on it in 2016 still rely on it to create class assignments.
Advancing A Vision For Global Change
What's interesting is that while I set out to teach my students about making an impact internationally, I'm also learning about myself. Prior to these global interactions, I wasn't terribly savvy from a cross-cultural perspective. But it's been a great experience communicating my vision for the project with teachers around the world and learning how different teachers approach the project.
One teacher held a class contest using Soundtrap, and the winning song was submitted to fill their selected track. Other teachers involve their entire class in the single track. I'm not listening to any of the submitted songs because I don't want them to influence what we at Caledonia Regional are doing.
We've also discovered some telling distinctions across cultures, in that most countries gravitated to topics that were relevant to them. For example, we're in a poor, rural community and many of our students were drawn to "No Poverty." Canada wanted "Gender Equality." Romania chose "Peace and Justice and Strong Institutions." In many cases, two schools are recording songs for the same track, which means we might have as many 34 tracks. Bring 'em on!
Whatever a teacher's curriculum, it can adjust to accommodate this critical issue. The UN's Sustainable Development Goals offer an amazing opportunity to teach our kids that there's a bigger world out there—and that they can change it. Without these goals, we're in trouble as a species. If our music makes people talk, we're already part of the solution.
About the Author: Benjamin Kelly is New Brunswick's Inspirational STEM teacher of the year for 2017. He is an Apple Distinguished Educator Board Member, a Microsoft Innovative Educator Expert, Global Minecraft Mentor and published educational researcher. He currently teaches grade 6 to 12 technology near Moncton, New Brunswick.