CalArts Goes Global with Experimental Pop Collaboration
October 27, 2021
Emily Evans, Co-Director of the Experimental Pop Program at California Institute of the Arts (CalArts), is using her ingenuity and expertise to reshape instruction with a global perspective. Over the past year, she has brought together a group of 40 students along with artists from the US, UK, Ghana, Uganda, Brazil, Egypt, Colombia, Japan, Germany, and France to participate in a collaborative songwriting project. Evans was supported by Soundtrap and used Soundtrap to compose. She collaborated, recorded, and mixed remotely with CalArts students with vocals and instrumentation added by handpicked artists from around the world.
Crossing borders despite lockdown
In March of 2020, when the pandemic lockdown commenced, Evans had to rethink her instruction without in-person access to campus studios for students. Normally, in her class, Production is Composition, The Studio as Instrument, students work with in-studio tools. Without that possibility, she creatively adapted, expanding her vision based on years of experience with international artists. "I started thinking about this idea of remote collaboration and the intercultural possibilities that in and of itself could be a format for generating interesting compositions," says Evans. "If all the students are remote, it doesn't matter where anyone lives, so why not have artists from all over the world come to do a project and participate in this class? We're all in the same boat."
In light of these changes, the course adopted a new name: Global Studios and Audiotopias. Evans reached out to previous partners she'd had in the UK while running Green Door Studio, a recording studio and community access space in Scotland that promotes self-produced work focused on Pop aesthetics mixed with technology learning. With the help of the radio station DubLab and record label Sublime Frequencies and Mais Um Discos, she soon had an incredible list of international artists to choose from. "It started with a playlist that I showed to the students in the class, and we narrowed it down from there," recalls Evans. She started by contacting the artists. Then she detailed the remote collaboration concept. Suddenly, the project was launched!
Soundtrap supports access and collaboration across nations
With a collection of international musicians at the ready and her students in remote settings, Evans realized that a user-friendly online recording tool would be essential. In contrast to other digital audio workstations (DAWs) familiar to Evans, Soundtrap offered online collaborative functionality in an uncomplicated format perfect for all to learn and use quickly. She reached out to Soundtrap and found an enthusiastic sponsor―access to the online studio was provided to all participants. 
"Soundtrap was wonderful, and I don't think we could have done the project without it," adds Evans. "There are artists in Uganda, for instance, who don't have a laptop, who might just have an iPad or their iPhone. Many people have different protocols, and there's no way we could have done something with another DAW that required a more sophisticated installation or specific devices."
Soundtrap Accessibility Goals
Accessibility was key, and using Soundtrap as a sketchpad for quick vocal and instrumental sharing proved enormously beneficial. "The fact that someone could just log in and be on it instantly without downloading drivers or having different accounts to sign in made it accessible for everyone," says Evans. Artists could sing a vocal "sketch" into their phones and share it with the students.
Asynchronous collaboration made possible by Soundtrap's features inspired users to work together across time zone differences. "Students could work on it in their time and then later that night, or in the morning, a person in Egypt could log on to add a synth part," explains Evans. She has many examples of collaboration. Soundtrap worked well for the group to collaborate in real-time but also at different times. Soundtrap allows everybody to use the chat feature to talk about the projects.
An eclectic mix becomes more than the sum of its parts
An eclectic mix of students is enrolled in the CalArts class. Evans describes it as "in-between genres" of music. The teaching methodologies for the project are similar to other classes in the Experimental Pop Program, with restructuring done by Evans and co-director Eyvind Kang. There is an emphasis on experimentation that uses technology to shape and style music to revise and enhance self-produced works. This approach works perfectly with the international artists whose different backgrounds and musical visions consistently surface new song ideas.
Remote Learning
For remote learning, one class was conducted with the following structure:
Class begins with a Soundtrap session for everyone.

Students use Brian Eno's

Oblique Strategies

to examine and overcome creative roadblocks. Each student is then asked to come up with strategies as prompts for motivation.

Everyone works together for an hour on the same multi-track composition.

Groups of four break off with copies of the multi-tracks to take in different directions. This demonstrates how malleable and modular a composition can be.

The teacher checks in on student work virtually. Students send a link of their work indicating the Soundtrap tracks to check. Feedback is given, including remix suggestions using ProTools to show how students can go back and forth between different DAWs. The file is then exported and sent back to students.
For each semester, students continually stretch their creative ideas and hone their production expertise. They will be working with the global set of artists to expand their concepts. Evans encourages open spacing in composition. Open spaces allow a call and response effect when working with guest artists sharing acapella or instrumentally. "They have a theme or a concept, and everyone creates a part based on that concept," adds Evans. The first run of the course resulted in a 33-song album uploaded to SoundCloud.
Listen to the compositions of Global Studios and Audio Topias below:
The collaborators:
C Yallah (Uganda)

Debmaster (Germany)

Francis Atamga/Top Link Studios (Ghana)

Adhan Zidan (Egypt)

Lucas Santtana (Brazil)

The Meridian Brothers (Colombia)

Takako Minekawa (Japan)

Dustin Wong (USA)

Nihiloxica (Uganda/UK)

Tafi Cultural Institute (Ghana)

Golden Teacher (UK)

and Sun Araw (USA).
Celebrating, continuing, and perfecting the project
On the final day of class for each semester, they have a grand summit. All the international artists and the CalArts students meet for the first time via Zoom. This Zoom call is where they share their finished work. Evans finds it especially rewarding to see the joyful reactions of the students as they respond to the completed work.
Even though CalArts is mixing in-person with virtual this year, Evans is continuing the class remotely. The format proved highly effective last year for obvious reasons. She plans on perfecting the approach and using Soundtrap to work on compositions. She describes the process as "the human signal chain," moving from one collaborator to the next in boundless iterations. As the class continues, she has aspirations of picking the best selections from all semesters. Only these will be sent to the label.
Evans shares an interesting final reflection on the collaborative process. This process describes an early recording effort before the advent of online tools. She and her husband flew from Scotland to Belize and Ghana, assembling recorded tracks in person. Only afterward will they return back to Glasgow for finalization. "With Soundtrap, we can actually do this without having to travel," she says with a smile.
About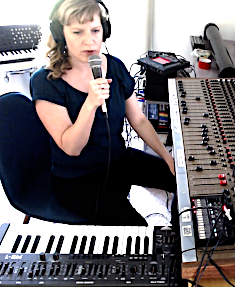 Emily Evans is the Co-Director of the Experimental Pop Program at CalArts with an elaborate background as a sound engineer, music producer, recording studio director, and musician. She is the founder of the Green Door Studio, a community-access analog/digital recording studio in Glasgow, Scotland, named Recording Studio of the Year (Scottish New Music Awards, 2010). She is ranked among the Top 100 Cultural Contributors in Scotland.
Emily has worked with a wide array of record labels and radio outlets. She continues to grow with over 100 recorded and mixed albums internationally. She holds a Bachelor in Art: Semiotics from Brown University, a Master of Design in Sound for the Moving Image from Glasgow School of Art (which she earned as an Arts and Humanities Research Council Scholar), a Postgraduate Certificate in Sonic Arts from the University of Glasgow, and has spent a year studying Environmental Art at Glasgow School of Art. To learn more about Emily and other CalArts programs, visit Youtube, Vimeo, and Twitter